We've all heard the expressions 'Boomer,' and 'Baby Boom,' right? (We may even have heard the rather unkind use of the term 'Boomer Remover' for Covid, which fortunately people found unfunny quite quickly).
But what does it mean to be a Boomer? This is a topic that has exercised me for some time, and as I approach 60, more and more. It's not all about me though: in my latter stages at the Cooncil where I worked for some 30 odd years (some years odder than others) I witnessed, first hand, the effects of that strange demographic spasm that affected the UK and the US (though not so much mainland Europe) after the Second World War.
More on what effects it has had, and will have, on the world of work presently. However, extensive research on my part (well okay I looked up a couple of decent websites) has already challenged what I thought I knew about this.
For a start, that period isn't the only baby boom of the twentieth century: look below at what happened when all those soldiers made it back from the Western Front in 1918 – 19, albeit it dropped away again quite rapidly. My parents, born in the late 1920s, were actually part of quite a small number.
Secondly, rather than there being one continuous boom from the minute hostilities ceased in 1945 until the mid 60s, as I thought, there were in fact twin peaks of high birthrate (these stats are for England and Wales, but given relative population sizes, you might as well take it as the UK position really). So my brother and sister, born in the early Fifties, were again part of quite a smallish cohort.
Note, incidentally, the author of this graph feels it significant to show the passing of the Abortion Act 1967, which will of course have had an impact. Another impact will have been from the introduction of the contraceptive pill, initially introduced on the NHS for married women only in 1961.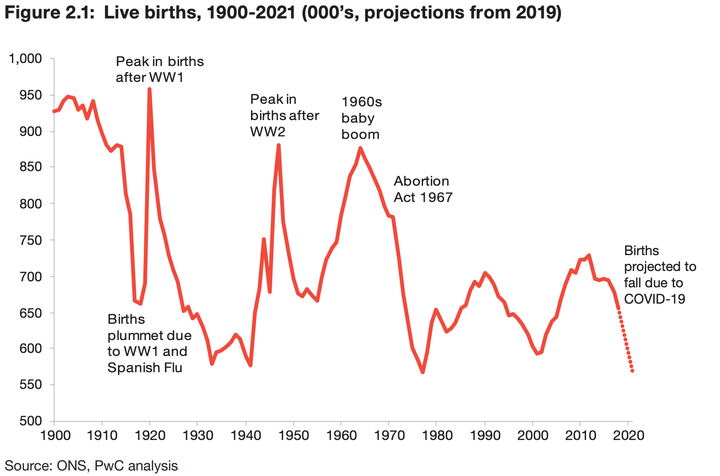 So, to summarise: if you were born in 1918 and you're still here, well done! Statistically there's probably a better chance of you being 104 right now, because there were more of you to start with (although of course you would also have been of an age to be signed up for the second set of unpleasantnesses in 1939 – 45, so jolly well done for coming through that).
If you were born in the mid to late 1940s, as many of our famous rock and pop stars of the Sixties were, you can truly count yourself as part of that first post-World War 2 (or even during the War – you know what they said about those GIs) Baby Boom. If you were born in the early Fifties, you're much less common.
Then comes that broader peak, actually really starting to climb only in the late Fifties, and  only tailing away quite slowly until about 1970, when it drops off a cliff (recession, stagflation, the incoming Thatcher government, anyone?)
This figure, from an article on the National Registers of Scotland website, shows the Scottish position, which is slightly less of a sharp peak.
Figure 2.1: Births and deaths, Scotland, 1951-2013
The same NRS article adds some other points of interest:
The 'baby boom' of the 1960s was mostly due to increased birth rates of females in their twenties. In other words, (my conclusion at least) the first peak fed into the second one by the mid-Sixties.
Since the early 1960s, females in their twenties have experienced a dramatic fall in fertility. For females aged 20-24 the fertility rate has fallen by over two-thirds, and for those aged 25-29 it fell by over a half.
The rate for 15-19 year olds fell by around one-third during the 1970s and remained around 30 births per 1,000 females for the following 20 years, before falling, over the past decade, to under 20 births per 1,000 females.
Fertility rates for females aged 30 and above have gradually increased over the last 30 years. In particular, the rate for 30-34 year olds overtook that of 25-29 year olds in 2002 and now stands at 98 births per 1,000 females. Similarly, the rate for females aged 35-39 has more than doubled since the mid-1970s and is now higher than that for those age 20-24.
Despite the recent increases, rates for females in each of the age groups over 30 are still slightly lower than they were in the first half of the 1960s. They are, however, considerably higher than in the 1970s, 1980s and 1990s.
The 15-19 and 20-24 age-groups account for most of the reductions in the numbers of births between 2008 and 2013.
So what does all that mean for the world of work? Well, I may be overthinking it, but I remember thinking that my original bosses, when I started working for the then Kirkcaldy District Council in 1989, weren't that much older than me but had been in managerial positions for quite some time.
That might actually be explained by the original baby boom of 1918 – 20 being 55 years before 1975, which happened to be the date of a reorganisation of local government in Scotland. For 'reorganisation,' read 'cutting a lot of manager's posts and giving people a package to retire early,' a process which will in some cases have taken some years to work through as the burghs and counties disappeared and the new District and Regional Councils took over and adjusted to fit organisationally.
In other words, by the early to mid-Seventies, there will have been a whole load of good ol' boys (and it would have been mostly boys, back then), born in 1918 or 19, ready to retire. There wasn't the same number of people of any one cohort to replace them, but as, for example in my own profession, a load of town clerks were replaced by a much smaller number of Directors of Legal Services, some young guns got an early promotion.
Roll that forward – again looking at local government, but other sectors may have gone through similar things – to 1995 – 6, when the next reorganisation took place, replacing a two-tier system of Districts and Regions with single, unitary authorities. This again meant a bonfire of the managers. Unfortunately, someone born in 1945 would just be hitting 50, not 65, which meant the retirement packages had to be handed out at a much bigger cost to the public purse to remove that particular cohort of early Boomers from their managerial posts.
I clearly remember this – and again, there was a tail to the process, as the new organisations shrank to fit the requirements by giving people who were really at the peak of their careers cash to go. The reduced number of managerial posts were then taken, for the most part, by people three or four years older than me – just at the start of the next peak in the demographic chart.
There is no current local government reorganisation on the cards – the Scottish Government has been faffing about with it for years, even before Covid. Instead, we've had wave after wave of budget reductions in the last few years. Packages have been handed out, although often to people closer to 60 than 50. That makes the compensatory added years element of the package cheaper than for younger recipients.
Aside from the money side, though, what does all this mean? In the present day, it means an awful lot of experience and corporate wisdom has gone out the door over the last ten years – quite a short period in the lifetime of an organisation like a Scottish council. That can be properly managed, of course – and as I've always said to Daughter and Heiress, as my generation of old codgers exit the workplace, there will be more jobs to go round for her lot – even with the constant pressure of mechanisation reducing the number of jobs overall.
That's not the whole story, of course. Brexit, Covid, economic recession, a Conservative Government about to lurch somewhere to the right of Genghis Khan, will all have effects on the job market generally. But at the moment it does feel like it's an employee's market, which has to be a good thing.
I'm no statistician, or demographicist, or whatever you call someone who really knows what they're talking about. If you are, and this is way wrong, please write in! However, when you look at those birthrate graphs, they really do tell a story. Or, more accurately, many stories.